An email message that is never delivered can never be read. This is the importance of email deliverability. But while many best practices are in consideration when creating an email marketing campaign, one factor sometimes goes forgotten: message size.
Does message size affect email deliverability? It sure does!
Consider the following topics:
1. How is message size determined?
The length and width of your email, as well as the amount of content and HTML formatting is what makes up your email's size. The size of any images has no effect on email deliverability, although some spam filters flag messages with an unbalanced text to image ratio.

2. What size email marketing campaign is best?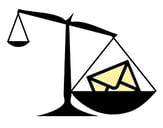 Although there are many recommendations in the industry, the general consensus is that each email marketing campaign should not exceed a certain message size. Email testing and analytics company Email on Acid found that sending an email marketing campaign in excess of 100KB triggered the most spam filters. There is no evidence to suggest that the larger the message size, the more spam filters it will be caught in.

3. How can I create the email I want while staying within limit?
Content remains pivotal to the success of an email marketing campaign, so you must use it wisely. Target Marketing suggests template width limits of 500 pixels, especially when sending to both desktop and mobile recipients. Don't forget! Some email service providers clip messages that are lengthy.

4. Does this include attachments?
No! Your email size does not include the size of any attached files. Alert Solutions recommends the attachment size not exceed 3MB, as anything larger could also negatively affect email deliverability.

Want to learn about more email marketing deliverability tips? Download our Email Deliverability Guide today!