Absenteeism is a major issue that many K-12 schools are combating today. Missing class does not only affect that student's future, but the future of other students who do attend school. Teachers aren't able to move on in their coursework when numerous students are absent for long periods of time. This delays, and sometimes prohibits students from learning everything they should within the current school year.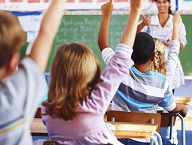 According to a recent New York City study regarding absenteeism in poverty stricken neighborhoods, "87,000 elementary school children, from kindergartners to fifth-graders, missed more than 10 percent of the 2012-13 school year." Not only were these students chronically absent in the 2012-2013 school year but, "At least one-third of the students were chronically absent for five consecutive school years." These statistics are alarming. However, some political and educational leaders are taking it into their own hands to help stop this epidemic of absent K-12 students.
The Mayor of New York City, Bill de Blasio, has decided it was time for a change. He announced a new program to embed into schools with the highest truancy rates in less fortunate neighborhoods. He plans to spend $150 million on healthcare needs such as community services, social workers, and psychiatric help – while making the school day hours longer and increasing the school year with weekends and summertime days.
Another proactive leader for K-12 schools in the fight against chronic absenteeism is Principal Patricia Mitchell of school P.S. 48 in South Jamaica, New York. She has decreased her school's truancy rates from 550 students to about 20 students. She has gone above and beyond the calling of a principal by visiting student homes to find out why her students were missing school.
Mitchell discovered some parents didn't want to send their children to school because their clothes were dirty. Parents couldn't get to the Laundromat before school so they had their children stay home. Mitchell accommodated this issue by providing a washer and dryer at school as a convenience for parents. Another method Mitchell uses to prevent chronic absenteeism is to celebrate students by hosting parties when they make significant improvements in attendance.
What are some techniques your school has to prevent absenteeism? Tell us in the comments below!
For tips on how to prevent chronic absenteeism at your school, download our Best Practice Guide today.