K-12 schools across the US have been developing new ways to go about their school year. One option that has been recently explored by several school districts is the four-day week.
This cuts the week for students from a five-day week to a four-day week. Copan Public Schools in northeastern Oklahoma, is one school pursuing this new structure in order to attract teachers and reducing absenteeism.
"We realized there were a lot of positive outcomes from the four-day week," Superintendent Rick Ruckman of Copan Public Schools says. "If we didn't have activity absences on Fridays because we didn't have class on Fridays, it would help those kids be involved in any activities they wanted. So far, it's been great."
The benefits of a four-day school week may include: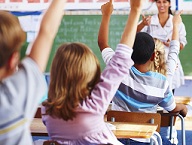 • Reducing Absenteeism: Many students who participate in athletics or other extracurriculars use up their allotted absences early in the year for tournaments and competitions that occur on Fridays. Parents can also use the extra day off for things, such as appointments, reducing the amount of school absences.
• Lower Costs: Schools utilizing the four-day week will save on transportation and utility costs. This is especially true for rural districts where students taking the bus are spread out across a large geographic area, increasing transportation costs.
How do you feel about a four-day school week? Share your thoughts on our blog!
For more tips and tricks on reducing chronic truancy in your school, download our best practice guide!