According to Stomp Out Bullying, 8% of students stay home on any given school day because they're afraid of being bullied.
When students are absent from school to avoid bullying and cyberbullying, states across the country lose millions of dollars in funding.
New research from The University of Texas at Austin highlights the hidden cost to communities in states that use student attendance rates to calculate public school funding.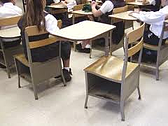 States including California, Texas and Illinois use a formula known as 'average daily attendance' to allocate certain school funds.
Average Daily Attendance is defined as the total days of student attendance divided by the total days of instruction.
Schools that receive funding based on this formula rather than their total student enrollment experience lower revenue when a student misses school. For example, California loses $276M in funding each year on average.
There is a strong correlation between school bullying and student attendance rates. Here are some statistics from a www.cyberbullying.org survey:
500,000 students have stayed home from school many times because of bullying
10% of the students surveyed stayed home from school because of cyberbullying
4 million students skip school at some point during the school year due to bullying
K-12 schools need to focus on keeping students in school, and implementing an effective bullying prevention strategy is a great way to start.
Alert Solutions offers some great bullying prevention resources for k-12 schools including tips, tricks and popular strategies. Download them today!