Extend the Value of Triggers with Multi-Channel Messaging
According to Forrester, 68% of U.S. business managers say their company desires to deliver a consistent, multi-channel customer experience, but only 29% have the ability to do so.
Alert Solutions' WebLaunch multi-channel trigger technology enables business to automate sophisticated and ongoing communications with messages triggered by a recipient's behavior.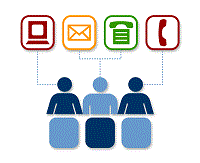 Identifying customer behaviors and linking that behavior to a triggered marketing campaign combines:
- Relevance
- Timeliness
- Communication Preferences
- Personalization
Complete the form to receive "Doing More With Less – Guide to Multi-Channel Triggers" today!